Javi's Cantina hosts Dinnertainment Soirées that you may join by making a reservation.  These are private events held in the cantina.  You can check our calendar here.
A Dinnertainment Soirée is a private dinner show of 2-3 hours and includes live music.  You reserve your seat and join others in the experience.  This is great for people who are not traveling in large groups, not staying in a villa or have a kitchen or just want to mingle with other Isla lovers.
Please send your information and your dates you will be on the island so we can plan one during your available dates using this form.
Dinnertainment is just that… Dinner + Entertainment=Dinnertainment
Give your group an experience to remember with local chefs and local flavor with live local music.
It's more than just a private chef and dinner, it is an intimate dining entertainment experience.  We do all the shopping and preparing then cook for you at your villa.  If you want to join in, make it a cooking class just for you.
We start with drinks, 1 round per person are on us.  Javi makes authentic margaritas that are sure to have you wanting more.  Soirées have a cash bar with premium alcohol and wine.
These drinks are enjoyed with appetizers, typically Guacamole, Shrimp Ceviche and Pico de Gallo with chips.
After the yummy spinach, strawberry salad, next comes the entree.  We are flexible and offer fresh fish, shrimp, lobster (extra cost) or arracherra prepared so special, you won't forget it. With stir fried rice and fresh vegetables.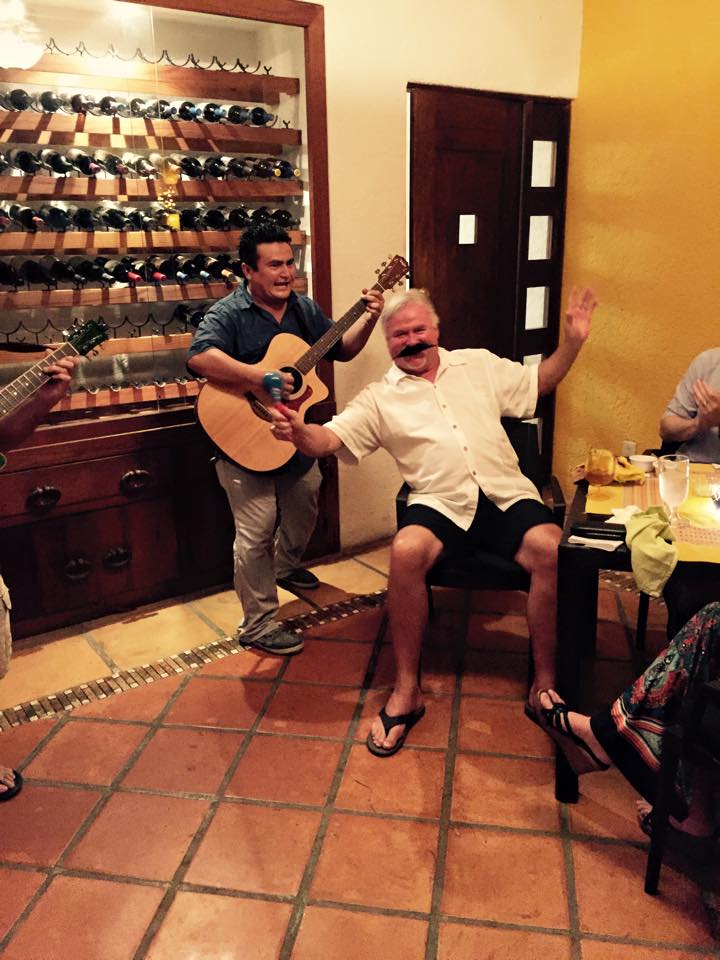 While you eat, we are preparing dessert to serve right out of the oven while Javi plays guitar and sings.  Any musicians in your group, the more the merrier!  Marla is sure to sing as well.
Dinnertainment is not just a stuffy dinner party, it is an experience to remember. Download our flier
What does a night of fun at this private party cost? Our rate is $60 per person in a private villa event or $50 per person in Javi's Cantina at a soirée.  Have an allergy?  Just let us know.
What's included:
Margaritas

Made with authentic recipes
Includes 1 round, enough for everyone in your group to have one.  More pitchers are available for purchase.

Appetizers

Fresh Pico de Gallo
Fresh Guacamole
Fresh shrimp ceviche
Chips

Dinner

Salad with Javi's Dream Dressing
Stir-fried rice (Javi's special recipe) or Oven roasted potatoes
Vegetable
Meat of your choice (mix and match if you would like)

Fish
Shrimp
Arrachera
Lobster (market price and in season)

Dessert: Your choice

Flan (Javier's mom's recipe)
Ice cream in tortilla baked shell with fresh fruit, topped with fresh toasted coconut and cookies
Baked chimichangas with cream cheese and fresh strawberries

Live Music- Javi plays for about 30 minutes
And there is more…
We also offer a wide variety of private chef and catering services.  Welcome snacks and drinks at your villa, breakfasts, lunch, dinner or just snacks by the pool.  Reasonably priced and delivered or prepared in your villa.  Please visit our Menu Ideas page for more information.
Who has been Dinnertained?
Please visit our testimonials page.
Want to host in your villa?
Just send us a request.