Dinnertainment

in your villa
A private and hassle-free dinner in your villa. One price for margaritas, appetizers, salad, dinner, dessert and live music with Javier Martinez on guitar. GREAT for CELEBRATIONS!
For the beach, boat, pool or golf cart cruising We will include the cooler.
For the beach, boat, pool or golf cart cruising We will include the cooler.
Javi's Cantina is located in Javi's grandmother's family home. He grew up here on Isla Mujeres. In 2016, Javi's Cantina was realized and continues to grow as we do.
The Cantina story began on July 15, 2016 in the family house on Avenida Juarez that had belonged to Javi Martinez's grandparents. The Martinez home was remodeled into a tiny cantina and prep kitchen for Dinnertainment, a popular catering business featuring delicious food and live entertainment by Javi Martinez and Marla Bainbridge Martinez. Their original idea was to offer a small tapas menu and a selection of beverages to help offset the expenses, but they soon expanded into a full-service restaurant. Then, things really took off and they decided to trust their instincts and ride the wave. In December 2017, they expanded into the larger, private courtyard where their guests can dine under the leafy branches of a tree planted by Javi's grandfather Esteban. Named after his grandfather Esteban, Javier Esteban is a very proud islander.
He grew up learning to cook and play guitar in a gregarious and musical family. Throughout severalgenerations, his family has been known as the island's musicians. The Municipality of Isla Mujeres recently recognized La Trova, the band Javi's father started, as the patrimonial music of Isla Mujeres.
As a counterpoint to Javi's Mexican heritage, Marla Bainbridge Martinez is a Southern girl fromAlabama mixing her favorite southern flavors into his Caribbean tastes. Marla spent time living on the west coast of Mexico before moving to Isla Mujeres. After vacationing on Isla Mujeres in 2006, she found herself returning time and again to this little island in paradise. She met Javi playing in a bar on Hidalgo and a simple request to sing with the band changed their lives forever. Finally, she made the jump in 2010 to be a full-time islander and she has never lookedback.
The mission of Javi's Cantina has always been to serve unforgettable food with a unique twist ina casual ambiance experience. Because music is so much of who they are, that had to be partof the experience.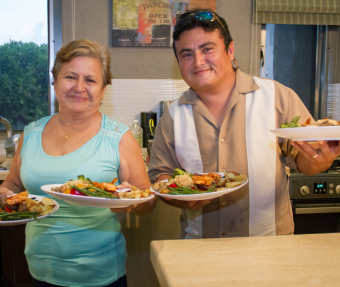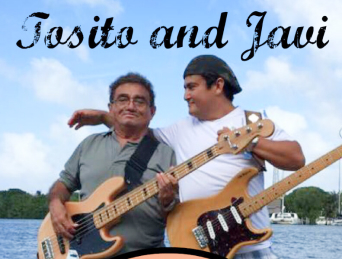 Is your suitcase full?  No problema!
Just order the merch and have it delivered directly to your door at home.
Great for souvenirs and gifts.